Spel Halli Galli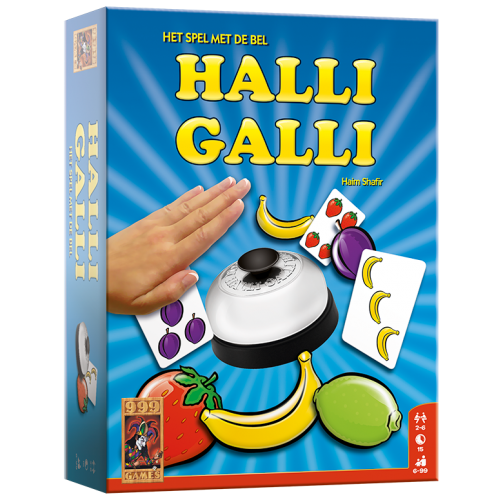 € 14,99
not in stock
Order
Product no.: 999-GAL01
------------------------------------------
Voor inwoners van de gemeente Oldambt... informeer naar de voorraad of eventuele andere spellen
➡️ 06-27204538
-----------------------------------------
Voeg in het spel Halli Galli steeds meer fruit toe aan de spannendste vruchtensalade bij jou thuis!

Bij dit leuke familiespel Halli Galli krijgt elke speler een gedekte stapel kaarten. Op elke kaart staan één of meer vruchten. Om beurten draait iedere speler een kaart om en legt deze op zijn eventueel eerder omgedraaide kaarten. Zo is voor iedere speler altijd maar één kaart zichtbaar. Als van een bepaalde vrucht precies 5 stuks zichtbaar zijn, moet je proberen zo snel mogelijk op de bel te drukken. Wie dat als eerste doet, krijgt alle open kaarten. Wie geen kaarten meer heeft, is uitgeschakeld. Wie blijft als laatste over?


Eigenschappen:


Halli Galli is niet alleen leerzaam voor jonge kinderen, maar dolle pret om een avondje te spelen met vrienden of familie.
Geschikt voor 2-6 spelers.
Speelduur: ca. 15 minuten.
Inhoud spel: 56 speelkaarten, 1 hotelbel en spelregels.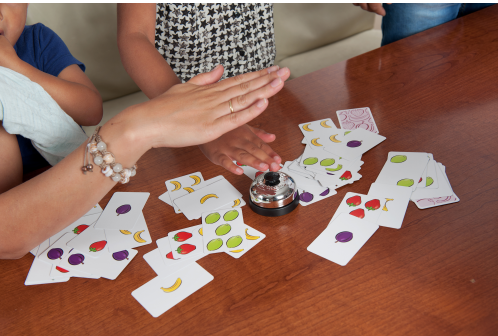 Offered by:


Top1Toys Jager


Langestraat 113
9671 PE Winschoten
Tel. 00 31 (0)597 – 431767 Mob:06
Visit the website
Opening hours
Monday 13.00 - 18.00
Tuesday 09.30 - 18.00
Wednesday 09.30 - 18.00
Thursday 09.30 - 18.00
Friday 09.30 - 21.00
Saturday 09.30 - 17.00
Sunday closed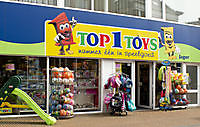 More info »