Spel Camel Up
€ 24,99
not in stock
Order
Product no.: 610-8598
------------------------------------------
Voor inwoners van de gemeente Oldambt... informeer naar de voorraad of eventuele andere spellen
➡️ 06-27204538
-----------------------------------------

De stapelgekke kamelenrace

Vlot race- en gokspel voor maximaal 8 spelers!

Vijf kamelen rennen over een zandparcours en proberen etappes of zelfs de hele race te winnen. Maar kamelen blijken vindingrijke dieren. Komen ze een soortgenoot tegen, dan springen ze er gewoon bovenop, zodat ze worden meegedragen!

De race bestaat uit verschillende etappes. Je kunt zowel op de winnaar van een etappe gokken als op de winnaar en de verliezer van de complete race. Daarnaast heb je de mogelijkheid om met behulp van een woestijntegel de race te manipuleren. Na elke etappe en de race zelf ontvang je geld als je goed gegokt hebt. Maar heb je op de verkeerde kameel ingezet, dan moet je betalen. Verdien jij uiteindelijk het meeste geld?

Camel Up is een luchtig en grappig spel voor het hele gezin.
Offered by:


Top1Toys Jager


Langestraat 113
9671 PE Winschoten
Tel. 00 31 (0)597 – 431767 Mob:06
Visit the website
Opening hours
Monday 13.00 - 18.00
Tuesday 09.30 - 18.00
Wednesday 09.30 - 18.00
Thursday 09.30 - 18.00
Friday 09.30 - 21.00
Saturday 09.30 - 17.00
Sunday closed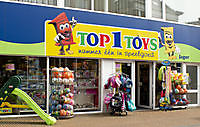 More info »