Bunchems Travel Case
€ 16,99
in stock
Order
Product no.: 250-7589
Knijp, verbind en creëer met Bunchems! Deze kleine, kleurrijke balletjes haken aan elkaar, waardoor je er allerlei verschillende bouwwerken mee kunt maken.

Met de Bunchems On the Go Easel maak je zelfs 3D afbeeldingen. Laat je creativiteit de vrije loop met de 150 Bunchems die meegeleverd worden. Plaats de ezel op de houder en je kunt beginnen met bouwen.
De Bunchems haken aan de ezel en aan elkaar, zodat alles wat je bouwt op zijn plek blijft en je kleurrijke 3D ontwerp tot leven komt.

Wanneer je uitgespeeld bent kun je alle onderdelen opbergen in de On The Go Easel. Er zijn aparte bakjes, zodat je de kleuren gescheiden van elkaar kunt bewaren en snel weer kunt beginnen met bouwen.
Offered by:

Top1Toys Jager


Langestraat 113
9671 PE Winschoten
Tel. 00 31 (0)597 – 431767
Visit the website
Opening hours
Monday 13.00 - 18.00
Tuesday 09.30 - 18.00
Wednesday 09.30 - 18.00
Thursday 09.30 - 18.00
Friday 09.30 - 21.00
Saturday 09.30 - 17.00
Sunday closed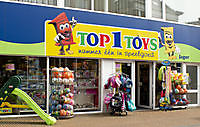 More info »