Grote serveerplank
€ 29,95
not in stock
Order
Product no.: 716009
Gewone lijn Serveerplanken

Grote serveerplank is voorzien van handvat, ophanggat en origineel Pimenta Loreti brandmerk.

lengte 70 cm, breedte 22 cm en dikte 2 cm,

Materiaal: Gebrand vurenhout uit Portugal Duurzaamheid: Herplant bomen Schoonmaken: met de hand afwassen en drogen aan de lucht.

HOUTEN SERVEERPLANKEN

De robuuste houten serveerplanken van Pimenta Loreti zijn gemaakt van duurzaam geproduceerd hout uit de bossen van Portugal. Voor elke boom, wordt een boom weer terug geplant. Het hout heeft een authentieke en robuuste uitstraling. Alle producten worden met de hand gemaakt, waardoor elk exemplaar uniek is. De serveerplanken worden gebrand en behandeld met olijfolie.


Gebruik en onderhoud van de serveerplank

Pimenta Loreti serveerplanken worden gebruikt voor het serveren van etenswaren. Wees een beetje lief voor je houten plank, dan kun je er jaren lang plezier van hebben. Het onderhoud is eenvoudig. Elke product is voorbehandeld met olijfolie. Na verloop van tijd verdwijnt de olijfolielaag en wordt de plank droger. Hierdoor kunnen er vlekken op de plank ontstaan. Om het hout mooi te houden is het raadzaam om regelmatig het product in te smeren met olijfolie. De plank het liefst met lauw warm water en een borstel schoonmaken en laten drogen aan de lucht. Voorkom langdurige blootstelling aan water en warmte. Niet in de afwasmachine of in de magnetron gebruiken.

Serveren

Wil je vettig of sterk gekruid eten (paprika/kerrie) op de plank serveren? Doe dit in een leuk stenen schaaltje dat je op de plank neerzet of gebruik een stukje bakpapier onder de etenswaren. Kleurstoffen, zuren en vet kunnen vlekken op de plank veroorzaken die moeilijk te verwijderen zijn.
Offered by:

Gastrovino Van der Laan Delicatessen
Langestraat 56
9671 PJ Winschoten
Tel. 00 31 (0)597 – 412572
Visit the website
Opening hours
Monday 13.00 - 18.00
Tuesday 09.30 - 18.00
Wednesday 09.30 - 18.00
Thursday 09.30 - 18.00
Friday 09.30 - 21.00
Saturday 09.00 - 17.00
Sunday closed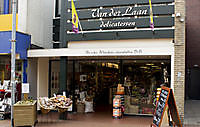 More info »