Boho Tiffin - Botanic Black Original
€ 44,95
in stock
Order
Product no.: Botanic Black Original
Lunchen in Botanische sferen! Deze moet je hebben!

Healthy lifestyle meets Fashion for Food!
Kies je lunchbox en laat je verrassen met de unieke Hanger & Kleurrijke Netbag die je erbij krijgt. (Voorkeur voor bepaalde kleur, geef dit dan aan in de mededelingen)

Tips & Productinfo
Jouw Boho-Tiffin bestaat uit 2 (Salad) of 3 stapelbare bakjes. De afmetingen van de Boho-Tiffins kun je vinden bij de productinformatie onder het product. Hij is gemaakt van duurzaam RVS (Roestvrijstaal) dit heeft als voordeel dat er geen nare luchtjes in zullen achterblijven en dat het RVS niet verkleurt. Ook is hij BPA vrij.

Handwas of vaatwasser?
Jouw Boho-Tiffin blijft het mooiste als je hem met de hand afwast. Mocht je hem toch in de vaatwasser willen gebruiken dan is dat geen probleem, het kan alleen zijn dat de kleur en het behoud van de print op lange termijn niet zo mooi meer blijven als toen je hem kocht.

Afsluiten
Jouw Boho-Tiffin is niet lekdicht dwz soep kun je beter in een speciale lekvrije soepbeker meenemen. Maar wil je bijvoorbeeld yoghurt of kwark meenemen dan kan dit gewoon. Kwark is vaak wat dikker dus dit is geen probleem maar twijfel je hierover en wil je meer zekerheid, dan kun je altijd wat huishoud- of magnetronfolie over je bakje heen leggen, ander bakje erop en klaar, het lekt niet meer.

Recepten
Voor lekkere (biologische) recepten, raw, vegan en (h)eerlijke ideetjes om je Boho-Tiffin mee te vullen:
Griekse yoghurt met chiazaden, blauwe bessen, bijenpollen en een handje ongezouten noten.
Cocos-balletjes van raw chocolate, dadels, gojibessen en paranoten.
Quinoasalade met zuurdesembroodcroutons, paprika, munt en komkommer.
Salade met geitenkaas, walnoten, rozijnen, kiemen, en zelfgemaakte honing-mosterd dressing.
Fruit zoals: appeltjes met kaneel, mandarijn, banaan, meloen, mango.
Rijstwafels met tahin en avocado
Bananenbrood of zelfgemaakte gezonde snackrepen

Geschiedenis:
Tiffin, ook wel Dabba of Rantang genoemd, ontbreekt in geen enkele Indiase keuken en is al eeuwenlang onderdeel van de Indiase eetcultuur. Tiffin betekent letterlijk tweede ontbijt of lunch en is ontstaan in British India.
Traditie
De stapelbakjes worden traditioneel gebruikt voor het vers houden en vervoeren van huisgemaakte Indiase gerechten. Alleen al in Mumbai worden er dagelijks 175.000 tiffins rondgebracht door 4.000 tiffin koeriers, Dabbawala's genaamd. Benieuwd naar het hele verhaal? Dan kunnen we je de film The Lunchbox aanraden.
Handmade
De in India (hand)gemaakte tiffins, van duurzaam roestvrijstaal, worden door ons stuk voor stuk voorzien van bohemian designs, iedere tiffin is daarom uniek. Ook de cotton netbag en leren hanger worden met de hand geproduceerd.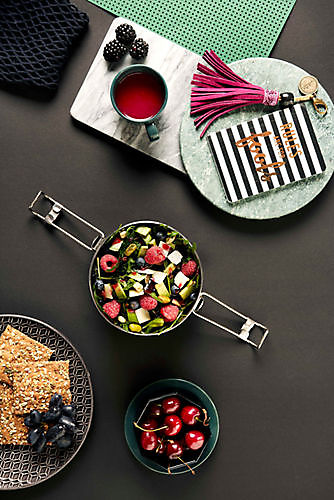 Offered by:


kadoHUT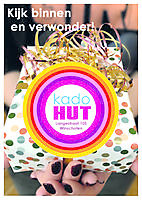 Langestraat 105
9671 PE Winschoten
Tel. 0597-435700
Visit the website
Opening hours
Holidays: the shop is closed from July 20 to July 27!

Monday: closed
Tuesday: 10.00 - 18.00
Wednesday: 10.00 - 18.00
Thursday: 10.00 - 18.00
Friday: 10.00 - 21.00
Saturday: 10.00 - 17.00
Sunday: closed
More info »